Forked River Animal Hospital
Forked River Animal Hospital in Forked River, NJ is a full service companion animal hospital. It is our commitment to provide expert, affordable veterinary care. Our services and facilities are designed to assist in routine preventive care for young, healthy pets, early detection and treatment of disease as your pet ages, and complete medical and surgical care as necessary during his or her lifetime.

Our Philosophy
We believe that good medicine can be affordable, good advice is free, and being nice doesn't cost a dime. We strive to solve your pets problems and allow your loved ones to live the best lives possible. We are always available to answer any of your questions. We truly love our job and hope to bring a new type of veterinary care to the Jersey Shore.

While Dr. Forces unique and varied veterinary experiences have contributed to making him an excellent Doctor it is his compassion for his patients and their owners, his common sense and humble beginnings that shape the way he practices today.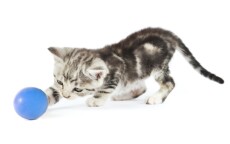 127 S Main St

Forked River

,

NJ

08731

Phone: (609) 971-7444
Fax: (609) 971-2996
Mon-Fri: 9:00am - 5:00pm*
Sat: 8:00am - 12:00pm
Sun: Closed
*The office opens at 8, but there is no dr until 9:30.